J.C Miñano honrado con el Premio A.E Conrady en 2010
J.C Miñano honrado con el Premio A.E Conrady en 2010
Thursday, 25 February 2010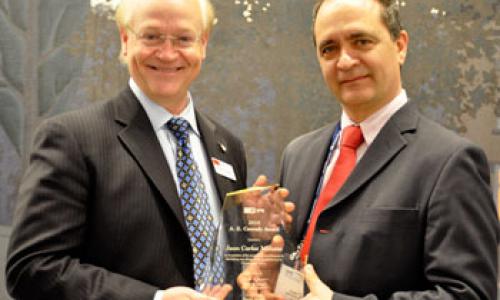 Juan Carlos Miñano, Universidad Politécnica de Madrid, Madrid.
Spain, is the 2010 recipient of the A.E. Conrady Award in recognition of his exceptional contributions in developing new design methods and devices in Nonimaging Optics.
"His most impressive contributions for me have been in the design principles he has laid out for Non-Imaging optical systems, first in his SPIE publications, but most recently in his book entitled "Non-Imaging Optics" with Roland Winston and Pablo Benitez," said David G. Pelka, President, InteLED Corporation, Inc.   The A. E. Conrady Award is given annually in recognition of exceptional contributions in design, construction, and testing of optical systems and instrumentation.