La IX edición del Smart Energy Congress & EXPO 2021 se celebrará los próximos 27 y 28 de octubre en Madrid.
La IX edición del Smart Energy Congress & EXPO 2021 se celebrará los próximos 27 y 28 de octubre en Madrid.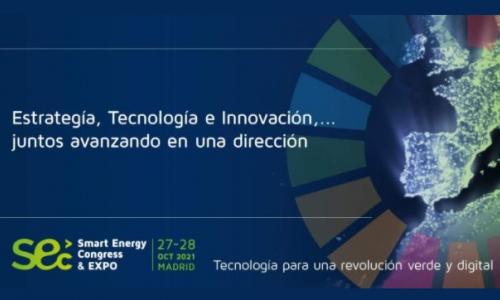 The Smart Energy Congress & EXPO (October 27 and 28 in Madrid), organized by the enerTIC.org Platform, has aroused the interest of more than 2,000 professionals a few days before its inauguration, which demonstrates the importance of digitalization as a driver to achieve energy efficiency and sustainability. You can register for the Congress free of charge at this link.
"Technology for a green and digital revolution" is the slogan chosen for this edition of what has become a reference event in Europe in technologies for energy efficiency and sustainability. Digitalization for the improvement of energy efficiency is one of the levers to achieve the objectives of CO2 emissions reduction, sustainability and climate change included both in the European funds and in the Recovery, Transformation and Resilience Plan of the Spanish Government.
For all these reasons, the current energy context, the EU's Horizon 2030 sustainability goals and the UN's SDGs, as well as the Next Generation EU funds will be the protagonists of an event that also seeks to promote co-innovation, the Startup ecosystem and public-private collaboration as other drivers to achieve sustainability.
Large EXPO and Networking Zone
Precisely, in order to strengthen relationships and meet the main players in the technology and energy industry, detect opportunities or share experiences, the congress includes an EXPO and Networking Area of more than 2,500 m2.
As for the conference program, in which nearly 150 experts will participate, there will be Vision Auditoriums in three modalities (Auditorium Technological Vision, Auditorium Strategic Vision and Auditorium Innovation Vision) and specialized sessions on Intelligent Energy & Utilities; Intelligent Industries & Mobility; Intelligent IT Infrastructure & Data Center; and Intelligent Territories & Cities.
This year's conference program brings together professionals from both the public and private sectors who have accompanied enerTIC.org since its inception in 2011 and who have worked over the past ten years to position sustainability and energy efficiency at the forefront of their organizations.
For the organizers, this edition is a turning point before a new decade of great opportunities, in a dynamic context and focused on digitization and energy efficiency in areas such as: Cities, Industries, Energy and Large Technological Infrastructures.
The Smart Energy Congress & EXPO 2021 will have as Global Sponsors: Ferrovial Servicios, Ibermática, Minsait, Naturgy, Rittal, Schneider Electric and Telefónica Empresas; as Platinum Sponsors: Accenture, EDF Fenice, Everis NTT Data, Inetum, Nutanix, Opentrends and Tecnatom; and in Gold category: amplía))), Aquads, Delta, ENGIE, FiGroup, GMV, Softtek, Software Greenhouse, Techedge and VASS.
The Smart Energy Congress & EXPO is the annual conference of reference for the strategy, technology and innovation teams of consulting firms, energy companies, technology industry leaders, startups and those responsible for major projects. This event is a firm commitment of the enerTIC.org Platform, currently formed by more than 80 associated companies and an extensive Institutional Collaboration Network, to publicize the opportunities offered by new technologies in improving energy efficiency and sustainability.
More information:
Smart Energy Congress & EXPO 2021