Eficiencia energética - Internet de las cosas
Eficiencia energética - Internet de las cosas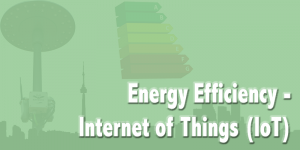 The Energy Efficiency and Internet of Things (IoT) group at CeDInt has a wide background in the communication protocols and control technologies for energy efficiency most used in industry. Its scientific activity is focused on the development of new intelligent ICT-based systems integrating ambient intelligence and context awareness algorithms for the implementation of energy efficiency strategies in buildings and other environments. More specifically, the group has a broad experience in the development of Open-IoT (Internet of Things) standard based in open software and hardware that comprise wireless networks for monitoring and control (energy consumption, ambient parameters and presence of users) and middleware platforms for intelligent control of buildings and other infrastructures (street lighting, Industry 4.0, etc.).
Research in Internet of things (IoT) applied to the development of  smart environments and energy efficiency:
1.- Building Automation Technologies:
Usability and interoperability testing.
Technologies and protocols integration (KNX, Lonworks, X-10, DALI, ZigBee, EnOcean, 6LoWPAN, etc.).
Development of multi-technology building automation platforms for control (lighting, HVAC, blinds, loads and appliances) and monitoring.
Design of friendly and intuitive graphical web and mobile user-interfaces.
2.- Wireless Sensors and actuators networks:
Standardization definition.
Development of hardware devices (sensors, actuators and coordinator nodes) compatible with IoT(Internet of Things) standards.
Development of wireless sensor networks based on open standards (IPv6).
3.- ICT-based systems for Energy Efficiency in Buildings:
In Home Displaysand multi-metering systems: real-time consumption monitoring (electricity, water and gas).
Intelligent metering:swdevelopment for consumption processing, analysis and forecasting.
Design and development of swmodules for OSGigateways.
Design and development of advanced control systems and user interfaces for building Energy Monitoring and Management.
Development and implementation of Energy Efficiency Managementalgorithms and applications using Residential Gateways.
Cloud services (energy management, security…) in building management platforms.
4.- Energy performance in buildings:
Energy certification of buildings: application of tools and methodologies according to legislation
Analysis of the impact of BMSs on the energy performance of buildings.
Definition and analysis of KPIs (Key Performance Indicators) for the energy performance of buildings evaluation
5.- Smart Environments:
Integration of Ambient Intelligence(AmI) and Context Awareness concepts in Residential Gateways.
AmI(Ambient Intelligence) applied to self-learning control of efficient solid-state lighting systems
Intelligent Optimization Algorithms (Artificial Intelligence, Ontologies, Fuzzy Logic, etc.): energy consumption prediction
6.- Smart Grids:
Development of advanced control solutions for energy management in buildings as active elements into theSmart Grid
Definition of ICT-based Demand Response and Dynamic-prizing services
7.- Smart Lighting:
Intelligent control systems for Indoor and street lighting .
Dimming based on presence and ambient lighting
Use of RGB LED technology for the creation of comfortable environments
8.- Environment and sustainability:
Software tools development for the validation of REDD+ (Reducing Emissions from Deforestation and forest Degradation) and CDM (Clean Development Mechanism) methodologies.
Wireless sensor networks development for monitoring the environmental status of forests: CO2 emissions and fire det
Projects
| | | |
| --- | --- | --- |
| | Transnet | The European Tr@nsnet project aims to contribute to the energy transition by defining a new model of a university living lab, i.e., a real test bed... |
| | Elastic Stack IoT Platform | An Open-source IoT platform that unifies the management, monitoring, storage and visualization functions of IoT networks in real-time through Elastic Stack tools. In this way, the platform not... |
| | ABIDI | ABIDI addresses key challenges of reliable industrial IoT networks, big data analytics, edge computing, contextualization, veracity and knowledge discovery, which are... |
| | TECH IOT | El Internet de las Cosas (IoT) y las redes inalámbricas para conexión de dispositivos (WDN) son esenciales para mejorar los procesos de automatización, aumentar la productividad... |
| | symbIoTe | The main goal of the symbIoTe Project is to provide an abstraction layer to allow a "unified visión" of various platforms or vertical solutions which belong to the IoT ecosystem... |
| | PIELSEN |    Our body self-regulation to maintain internal balance against changes in the external environment is known as homeostasis. The human skin is regulating the exchanges between... |
| | Self-Powered System | The main goal of the project is to achieve a non invasive solution for power consumption measurements in distribution panels. A self-powered device has been designed exploiting... |
| | MAIGE | MAIGE project focuses on the concept of Asset Management, with a direct impact on the level of inspection and maintenance of installations of gas and electricity distribution.... |
| | TR@NSENER | TR@ NSENER challenge is to respond to RIS3 (Research and Innovation Strategy for Smart Specialisation) commitments of each region involved in the project (Spain, France and... |
| | ALLIPOP | ALLIPOP is a technical solution able to deal with the great growth of the current extreme to extreme (E2E) networks within the Internet of Things. Based on the capillary... |
| | Green Labs | Project aimed to reduce electric consuption of greenhouses and labs of the CBGP research center by consuption monitoring and alternate ligting technology provission and... |
| | CPSE Labs | CPSE Labs is a European Union-funded initiative with a mission to support small and medium-sized businesses which engineer or operate dependable cyber-physical systems (CPS) in... |
| | Living Lab Illumination | This Project aims to enhance the outdoor illumination infrastructure at Montegancedo Campus. It provides a smart illumination system which is able to measure the reflected... |
| | TUD COST Action TU1204 | Cities are the future. In 2008, the percentage of people living in urban areas surpassed those living rural communities. This Action co-ordinates a trans-disciplinary network of... |
| | TEDS4BEE | The European project TEDS4BEE, aiming at reducing energy consumption in public buildings' through an experimental digital monitoring service. |
| | BatNET | BatNet is a wireless devices network that uses IPv6 as the main communication protocol. This allows the communication among all the different kinds of devices, creating a mesh... |
| | eGEO | This project aims to develop a new service which will be able to modify remotely and automatically the lighting level, air conditioning and security conditions of any room... |
| | ClimApp | This project describes the design and development of a HVAC control system for a commercial building. This system is aimed to optimize user comfort and to reduce energy... |
| | Ciudad 2020 | Ciudad 2020 aims to become a reference project for the Smart City concept in Spain, conceiving a new model of Smart City which encompasses the main areas within a... |
| | SINGER | The objective of singer project is the design and development of an intelligent system able to manage the energy through building architectonical envelope restoration, aiming at... |
| | BatMP | BatMP is a software platform or middleware designed for the monitoring and management of buildings through the data obtained from electronic devices. |
| | Lab XXI | The project LABXXI will let use in the short time a new model of laboratory addressed to the people, resources optimization and environmental protection. |
| | EMVS | The project proposes a study of possible energy savings in lighting and air conditioning offering home automation technology applications in social housing promoted by the "... |
| | Ecommontech | The aim of the project Ecommontech is to develop a tool suitable to certify that a particular area is being reforested through a REDD mechanism (Reducing Emissions from... |
| | Siglas | The goal of this project is the design and development of a building energy management intelligent system, for the achievement of a high energy efficiency incorporating... |
| | THOFU | The project studies the application of new technologies in the hotel environment in order to get advantages for the client and the manager. It covers research in many fields... |
| | I3E | The general objective of the project is the creation of a energy management web platform for a group of buildings |
| | 3WE | The key goal of the project is to develop a web based technology platform which enables a real time monitoring of environmental factors (temperature, humidity, CO2 levels...etc... |
| | SmartCity | This is a four year long project (2009-12) that tries to create an energy distribution model adjusted to electricity supply and demand requirements. |
| | EGA | This experimental development project aims to build an intelligent platform able to show in an unified manner the most usual energy and resources consumptions in a household, i.... |
| | EcoBuilding | Design and developeent of a platform for Monitoring, Evaluation and Intelligent Control of Energy Efficiency in the Building Industry. |
| | DENISE | This is a four year long project (2007-10) with a 30 million € budget that tries to establish the principal issues of a smart, safe and efficient electricity distribution... |
| | Solar Decathlon 2007 | Solar Decathlon is a competition organized by the U.S. Department of Energy for universities from all over the world, that challenges collegiate teams to design, build, and... |
| | Vigilancia Tecnológica | The "Technological Surveillance" report, describes the overall context where energy efficiency and sustainability are positioned, with special stress in the residential design and building in... |
| | e-Medicion | The objective of the project is to design and develop an unified platform for the measuring of electricity, gas and water consumptions in the household. |
| | LivingLab | Creation of a European Lab network where potential users may test prototype products and systems before they are introduced to mass market. |
| | IAm | Main objective is the design, test and spread of energy management services for houses, relying on ambient intelligence techniques. |
Publications and other relevant activities
| | | |
| --- | --- | --- |
| A Universal Testbed for IoT Wireless Technologies: Abstracting Latency, Error Rate and Stability from the IoT Protocol and Hardware Platform | JRC-SCI Magazine | 05/2022 |
| Implications of properties and quality of indoor sensor data for building machine learning applications: Two case studies in smart campuses | JRC-SCI Magazine | 01/2022 |
| Management and Monitoring IoT Networks through an Elastic Stack-based Platform | Congress | 11/2021 |
| The Smart Meter Challenge: Feasibility of Autonomous Indoor IoT Devices Depending on Its Energy Harvesting Source and IoT Wireless Technology | JRC-SCI Magazine | 11/2021 |
| Alexa-Based Voice Assistant for Smart Home Applications | Other Indexed Magazine (RIND) | 07/2021 |
| Determining a consistent experimental setup for benchmarking and optimizing databases | Congress | 07/2021 |
| La energía verde que mueve el IoT | Not Indexed Magazine | 04/2021 |
| Smart Metering for Challenging Scenarios: A Low-Cost, Self-Powered and Non-Intrusive IoT Device | JRC-SCI Magazine | 12/2020 |
| Improving the management of massive IoT networks with Elasticsearch | Award | 10/2020 |
| 2020 EMEA Elastic Search Award Honoree within the Cluster Award category | Award | 10/2020 |
| Estudio de viabilidad técnica para el abastecimiento energético eficiente de una base científica en la Luna mediante energías renovables | Master's Thesis | 09/2020 |
| A Novel, Self-Powered, Non-Intrusive, Sigfox-Enabled Smart Meter for Challenging Scenarios | Congress | 07/2020 |
| Design and implementation of an open-source platform with Elasticsearch to manage Networks of IoT devices. | Master's Thesis | 07/2020 |
| Guidelines and criteria for selecting the optimal low-power wide-area network technology | Book/Chapter | 03/2020 |
| Sistema no intrusivo de control de actividad basado en RF para ayuda de la dependencia de entornos de baja conectividad | Other (Thesis...) | 07/2019 |
| Diseño de sensor ambiental IoT de bajo consumo, alimentado mediante energía solar | Other (Thesis...) | 07/2019 |
| Hybrid LPWAN Communication Architecture for Real-Time Monitoring in Power Distribution Grids | Congress | 04/2019 |
| Smart Street Lightning System for Eco-Cities Based on 6LoWPAN IoT Networks (Póster) | Congress | 11/2018 |
| Desarrollo de una arquitectura cliente-servidor para la gestión de reglas de filtrado de recursos Web públicos y su aplicación específica en el ámbito de las ayudas técnicas. | Other (Thesis...) | 07/2018 |
| Design, prototyping and validation of a wireless, self-powered, non-intrusive power consumption metering device for mains electricity in virtue of inductive energy harvesting techniques | Other (Thesis...) | 07/2018 |
| Estudio comparativo de sistemas basado en técnicas de Deep Learning para la detección de estrés agudo a partir de la señal EMG. | Other (Thesis...) | 07/2018 |
| IoT Solution for Energy Optimization in Industry 4.0: Issues of a Real-life Implementation. | Congress | 06/2018 |
| Power Distribution Monitoring Using LoRa: Coverage Analysis in Suburban Areas. | Congress | 02/2018 |
| Protocolo 6LowPAN para conexión de objetos a internet. | Dissertation by Invitation | 11/2017 |
| Tendencias en Internet de las cosas (IoT). | Dissertation by Invitation | 11/2017 |
| A Semantic Implementation for Data Management in an Open Building Automation Platform. | Other (Thesis...) | 09/2017 |
| Advanced infratructure for smart lighting urban illumination. | Special Participation | 06/2017 |
| Visualization tools and Visual Analytics for Big Data analysis on people movement. | Special Participation | 06/2017 |
| Demand-response infrastructure for houses. | Special Participation | 06/2017 |
| Green Labs: Internet de las Cosas aplicada a la gestión y monitorización de invernaderos | Congress | 06/2017 |
| Contribución al estudio de Sistemas VLC en entornos domóticos. | Other (Thesis...) | 03/2017 |
| Improving Manufacturing Processes using Open-IoT BatNet Technology (Póster) | Congress | 02/2017 |
| Open-IoT Solution-Madrid. Reunión de expertos. High-level conference (invitación). | Dissertation by Invitation, Special Participation | 10/2016 |
| Desarrollo e implementación de una metodología para el control de calidad de la red de dispositivos Bat-IoT. | Other (Thesis...) | 02/2016 |
| Open IoT Smart Campus. IoT Success Stories SERIES #3 /Internet of Things Success Stories #3 | Book/Chapter | 11/2015 |
| Estudio del efecto guía-onda sobre polimetacrilato de metilo. Aplicacion para una lámpara led con control inalámbrico | Other (Thesis...) | 09/2015 |
| Invitación Jornada Pozuelo Smart City: Presente y futuro | Dissertation by Invitation, Special Participation | 03/2015 |
| Jornada de Protección de Datos y Tratamientos masivos de información. La privacidad en la internet de las cosas. Agencia Española de Protección de Datos con la Comisión Europea. | Special Participation | 01/2015 |
| Tercer Congreso Nacional de Conocimiento Abierto Bioinspirado e Inteligencia Colectiva. "BIG TOURISM, we are all tourist" | Special Participation | 11/2014 |
| Parameter-based Mechanism for Unifying User Interaction, Applications and Communication Protocols | Congress | 11/2014 |
| Data Consistency Management in an Open Smart Home Management Platform | Congress | 10/2014 |
| Energy-saving Smart Street Lighting System based on 6LoWPAN (póster) | Congress | 10/2014 |
| Implementation of a Building Automation System based on Semantic Modeling | JRC-SCI Magazine | 11/2013 |
| eCOMMONtech: plataforma sofrware para monitorización del balance de Gases de Efecto Invernadero en el Marco de Mecanismos de Desarrollo Limpio Forestales y Proyectos REDD+ | Congress | 06/2013 |
| Lessons learned on home energy monitoring and management: Smartcity Málaga | Congress | 05/2013 |
| BatNet: an implementation of a 6LoWPAN sensor and actuator network | Congress | 05/2013 |
| Multiprotocol Android application for smart control and monitoring in buildings | Congress | 12/2012 |
| Bat-MP: An ontology-based energy management platform | Congress | 12/2012 |
| BatNet: a 6LoWPAN-based Sensors and Actuators Network | Congress | 12/2012 |
| BatNet: red inalámbrica de sensores y actuadores basada en 6LoWPAN | Congress | 11/2012 |
| Open Multi-technology Building Energy Management System | Congress | 10/2012 |
| Climap: A Novel Approach for an Intelligent HVAC Control System | Congress | 06/2012 |
| MDL: A Module Description Language for Chained Heterogeneous Modular Robots | Congress | 12/2011 |
| Redes de sensores | Congress | 06/2011 |
| Nuevas estrategias energéticas: próxima generación de pasarelas residenciales y su integración en las redes de distribución eléctrica inteligentes | Congress | 04/2011 |
| Next Generation of Energy Residential Gateways for Demand Response and Dynamic Pricing | Congress | 01/2011 |
| Building Automation and Control Multi-Technology System | Congress | 11/2010 |
| A Practical Approach to Smart Grids: New Energy Residential Gateways on PLC | Congress | 03/2010 |
The interoperability room is a place where different energy efficiency technologies are deployed.

CeDInt's IoT Lab focuses its activity in the usage of ITC-based tools to achieve a sustainable research.

CeDInt's Industry 4.0 Lab will provide a research infrastructure and facilities thereof for the industry of the future, including a BatNet network of sensors and actuators on digital manufacturing

 

 

This room is a research place where saving energy and energy efficiency have been made a priority. Here, solutions developed from research are shown and evaluated.

· 100 µm resolution and dual print head for jobs in two colors.

· Prototyping in ABS plastic.

· Tank size: 210mm x 210mm x 205mm

Space of objects production that groups equipment and latest machines that allow promote creativity, minimize design cycles and improve the process of creating new products objects.