Ángel Almeida y Guillermo Cañada defienden sus Trabajos Fin de Master
Ángel Almeida y Guillermo Cañada defienden sus Trabajos Fin de Master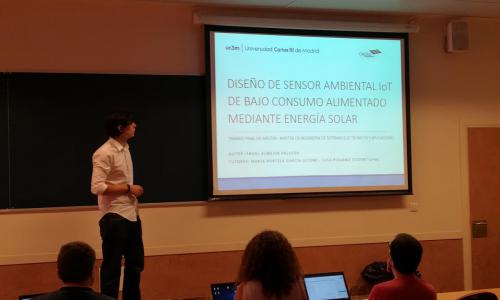 Last July 15th and 16th 2019, researchers Ángel Almeida Arlucea and Guillermo Cañada Valverde of the Energy Efficiency - Internet of Things (IoT) group of CeDInt, presented their Master's Thesis dissertation of the postgraduate program "Máster en Ingeniería de Sistemas Electrónicos y Aplicaciones" from Universidad Carlos III de Madrid. Their final marks were 9.8 and 9.2 (out of 10), respectively. The titles and the advisors of both dissertations are:
Ángel Almeida Arlucea
Title: "Diseño de sensor ambiental IoT de bajo consumo alimentado mediante energía solar" ("Design of an IoT, low-power, sensing device with solar energy harvesting system")
Advisors: Marta Portela García (UC3M) and Luca Piovano (CeDInt-UPM)
Guillermo Cañada Valverde
Title: "BatLocation: Sistema no intrusivo de control de actividad basado en RF para ayudar a la dependencia en entornos de baja conectividad" ("BatLocation: a non-intrusive, RF-based, activity monitoring system for elderly and dependent people care in low-connectivity environments")
Advisors: Ricardo Vergaz Benito (UC3M) and Guillermo del Campo Jiménez (CeDInt-UPM)
Congratulations to Ángel and Guille!
Article type:
Piece of news
Dissertation