Tecno-Economía: Contenidos, aplicaciones e infraestructuras de nueva generación
Tecno-Economía: Contenidos, aplicaciones e infraestructuras de nueva generación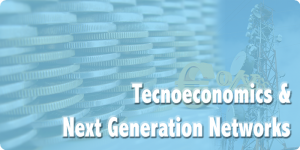 In this recently launched research area, both the technical and economic perspectives on the next generation of telecommunications infrastructures (FTTx, Docsis 3.0, 4G, etc), contents and applications (on-line media, mobile apps, etc) are examined with a look at their sustainability and their usage in the home and personal environments. Emerging paradigms such as context-awareness, immersive media and Internet of things are specifically considered.
The current flagship project in the area is a study on the deployment of Next Generation Networks (NGN) carried out in cooperation with leading Spanish companies (Telefónica, Vodafone, Orange, ONO) and institutions (Spanish National Regulatory Agency). The project tries to shed some light on the contributions of broadband infrastructures to a sustainable economic growth, the current situation of the deployment of next generation of networks and the limits of the market action –coverage of the territory, penetration, etc. as a function of time and possible technologies (wireless in particular), and finally, the public perspective on how to promote this deployment.
Projects
EIB

.

Analysis of the economic value of personal information

Which is the economic value of personal information?

How the exchange of information is benefiting society and the economy
...

Future of telecoms technology providers

Forecast and analysis of emergent technologies for the Telecom technology providers.

NEREC

Estudio-investigación sobre las características tecno-económicas de las redes de nueva generación (NGN) y sus implicaciones regulatorias.

Videogame industry in Europe

The present study analyses the video game software industry, its market potential, its value chain organization and business models and its current line of evolution, so as to...

Digital Agenda Europe

Management of spectrum

Social Media

Los medios sociales son entornos que propician el incremento masivo de la publicación de información y opinión en la red por parte de los usuarios, así como su creciente participación en redes...
Publications and other relevant activities