El proyecto MAIGE presenta oficialmente su plataforma tecnológica
El proyecto MAIGE presenta oficialmente su plataforma tecnológica
Thursday, 19 October 2017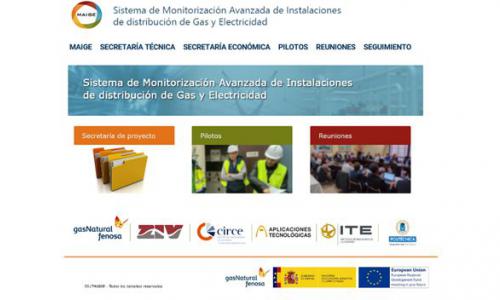 Today MAIGE Project (Advanced monitoring system for gas and electricity infrastructures and distribution) participated by CeDInt, has launched it's technological platform.
The scope of the project includes developing advanced monitoring systems for infrastructures and networks for gas and electricity distribution. This strategy aims in the medium term to stablish knowledge, equipment and tools to efficiently manage these utility asets. At the same time introducing new functionalities and increasing security and reliability for the support precesses and uptime.
This new platform will contain all most relevant information of the project updated as the project evolves. Has been designed to ease access to project content organized in six sections with content such as: challenges, objectives, work plan, partners, pilots, events, timeline or publications to name a few.
MAIGE has been funded by the Spanish Ministerio de Economía, Industria y Competitividad and the European regional development Fund inside the RETOS Collaboration Call. The consortium leaded by GAS NATURAL FENOSA has the following partners: Aplicaciones Tecnológicas (AT3W), Fundación CIRCE, ZIV, Universidad Politécnica de Madrid (CeDInt-UPM) and Instituto Tecnológico de la Energía (ITE).
To access the platform CLICK here