DENISE
DENISE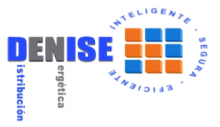 Project led by ENDESA SERVICIOS funded by "CENIT Program" of CDTI (Center for Industrial Technological Development) with the support of Ministerio de Industria, Turismo y Comercio (Industry, Turism and Trade Department).
Start Date:
Tuesday, 2 January 2007

to

Saturday, 1 January 2011
Inteligent, Secure and Efficient Energy Distribution
This is a four year long project (2007-10) with a 30 million € budget that tries to establish the principal issues of a smart, safe and efficient electricity distribution network.
The key goal of this project is to solve two different problems that utilities have to face:
* The persistent growth of energy demand in the European market has led to an increased need for innovative tools to facilitate a sustainable development of power systems.
* The lack of communication between ICTs (Information and Communication Technology) and traditional utilities services.
During this project, a home automation system has been developed in order to monitor and control the household energy consumption. Specifically, a Residential Gateway with a visualization display to be located at the customers´ homes has been implemented. This gateway enables several services for the utilities and end users such as HAN (Home Area Network) device control, Energy Management, Demand Response services.