La Fundación Alzheimer España (FAE) firma un convenio de investigación con el CeDInt para acercar la tecnología domótica a los hogares de enfermos de Alzheimer
La Fundación Alzheimer España (FAE) firma un convenio de investigación con el CeDInt para acercar la tecnología domótica a los hogares de enfermos de Alzheimer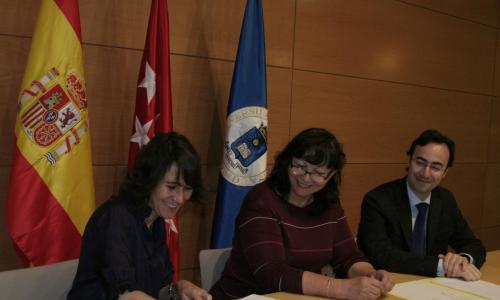 Ms.  Micheline Selmés, President of FAE and Ms. Asunción Santamaría, Director of CeDInt-UPM have signed a collaboration agreement that leverages the knowledge of FAE on Alzheimer patients and their caretakers and the experience of CeDInt in advanced home automation systems to develop specific devices addressed to enhance security and quality of life of these collectives.
* Surveillance of 3 and a half hours per day.
According to World Health Organization's report (2012), family members taking care of Alzheimer patients dedicate an average of 6,8 hours per day to the surveillance of it's relative 7 days a week and almost 3,5 of them are related to oversee conduct problems and prevention of potentially dangerous situations like home accidents or falls.
* Provide home automation solutions to the patients' home
The above information is the foundation of the collaboration agreement signed by Fundación Alzheimer España (FAE)  and Centro de Domótica Integral (CeDInt) to make home automation technologies more accessible to families that coexist with relatives suffering the Alzheimer disease.
Home automation technologies present in many specialized residences are not widely spread in homes yet. They can however offer a valuable help to increase security and freedom of the patient at home.
* To create practical, simple to use and economic devices
The objective is to develop easy, practical end economic home automation solutions specific to the Alzheimer disease patient's family needs. Both organization will work together first to identify the priority needs for those collectives in their day to day life, and provide for the use of experimental models in real life conditions with real home tests under surveillance and maintenance protocols as well as a consulting service to provide a personalized recommendation to each family fitted to their particular needs.