Ceremonia de Entrega enerTIC Awards 2018: Tecnología, Eficiencia Energética y Sostenibilidad
Ceremonia de Entrega enerTIC Awards 2018: Tecnología, Eficiencia Energética y Sostenibilidad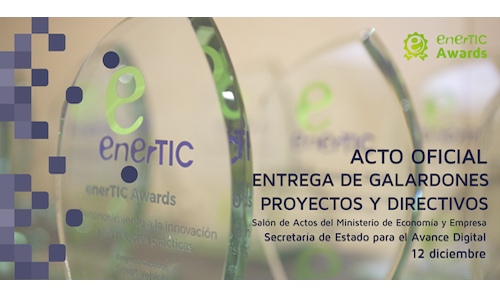 The Ministry of Economy and Business will host next Wednesday 12 December the Awards Ceremony of the VI edition of the enerTIC Awards, which will be chaired by D. David Cierco, Director General of Red.es and D. Antonio Alcolea, Deputy Director General of Promotion of the Information Society (Secretary of State for Digital Advancement).
Since 2013, the Plataforma enerTIC organizes these awards, which arose with the aim of identifying, recognizing and disseminating the involvement in the use of Information and Communication Technologies to improve energy efficiency and sustainability, as well as the work and involvement of public and private sector managers in the implementation of these technologies, such as: IoT, Big Data, Artificial Intelligence, Blockchain, DeepLearning, ...
During the Award Ceremony, the VII Smart Energy Reference Guide: "Technology for the Improvement of Energy Efficiency" will be officially presented, a reference document in the industry that includes the most innovative projects and good practices of the year, as well as the keys and trends for 2019. This edition, foreword by the European Commissioner for Energy, Mr. Miguel Arias Cañete, and by the Minister of Ecological Transition, Ms. Teresa Ribera, analyzes the impact of the Digital Transformation for the improvement of Energy Competitiveness and establishes the main objectives to continue promoting a decarbonized economy in the Horizon 2030 Program.
In addition, the progress of the Action Plan for 2019 and its main annual event, the Smart Energy Congress entitled "Digital Transformation, leading Energy Efficiency" (3 and 4 April in Madrid), will be presented, as well as the general evaluation of 2018.
Finally, the enerTIC Platform celebrates having surpassed the barrier of 60 associates/collaborators, a fundamental milestone of the 2017-2020 Strategic Plan. This year enerTIC has been joined by companies such as T-Systems, Endesa, Atos, Vodafone and GMV, among others, which have joined firms such as Telefónica, Naturgy and Ferrovial.
All the information on the awards:
Awards: http://www.enerTIC.org/Awards
Delivery Ceremony: http://www.ActoEntregaAwards.com
About enerTIC
Its mission is to 'Contribute to the development of the transformation potential of Information and Communication Technologies in the field of energy efficiency in Spain with the support of Associated Companies and public institutions, in favour of a more competitive and sustainable economy'.  The Platform works, both in the public and private sectors, to promote initiatives and activities of awareness, promotion and dissemination, as well as multi-organizational cooperation, which favours the application of ICTs to improve the energy competitiveness of people, technological infrastructures, Spaces and Buildings, and strategic Sectors.