VI Edición de los premios a la innovación y tecnología para la eficiencia energética en la era digital.
VI Edición de los premios a la innovación y tecnología para la eficiencia energética en la era digital.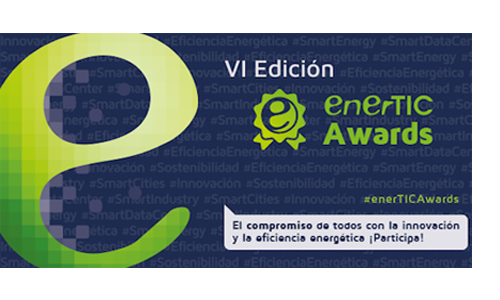 After the success of the enerTIC Awards 2017 that rewarded the most innovative projects and the managers most committed to energy efficiency and sustainability, enerTIC presents the sixth edition of its reference awards: `Innovation and Technology Awards for Efficiency in the Digital Age' during the Awards Gala at the Secretary of State for the Information Society and Digital Agenda (Madrid).
The main purpose of these awards is to identify, reward and disseminate:
Executives who have contributed to implementing the use of the most innovative technological solutions for the improvement of energy efficiency and sustainability in their companies and organizations. Professionals who, throughout their career, have promoted good practices in their sector, so that their performance can serve as an inspiration and example for other managers.
Innovative technological projects carried out by companies and organisations committed to energy efficiency and sustainability. Public or private actions and initiatives that have helped to promote the use of ICTs to improve energy efficiency.
The enerTIC Awards were created six years ago within the framework of the enerTIC Expert Groups and since then the definition of the evaluation criteria has been carried out in an open manner and has been governed by the highest criteria of independence, transparency and rigour.
All public and private organizations are invited to participate in this VI Call for Proposals; to do so, interested parties must fill in the enerTIC Awards Participation Form before September 4, 2018 (see below for more details).
In order to submit a project/directive, it is necessary to complete this short form to identify the Application/Nomination before July 16 and to formalize it before September 4.
The enerTIC Awards 2018 recognize the following categories:
In addition, the project and the most voted executive will be awarded the prizes:
   enerTIC 2018 Project
   enerTIC 2018 Directive
The Phases of the Process are:
    Official launch of the enerTIC Awards: 21 June
    Identification of projects (nominations) and directors (nominations): before 16 July
    Formalization of candidatures and nominations: until September 4
    Evaluation of applications and selection of finalists*: 13 September
    Online Publication of Finalists: September 28th
    Finalists Presentation: November 14 at SCEWC 2018 in Barcelona
    Online Voting for Winners: until November 16th
    Official Award Ceremony: December 12 in Madrid
All the information about: Objectives and rules of participation enerTIC Awards 2018.