SmartCity
SmartCity
Proyecto financiado por el Centro para el Desarrollo Tecnológico Industrial (CDTI) a través del fondo tecnológico FEDER. Liderado por ENDESA SERVICIOS en cooperación con Enel, Acciona, IBM, Isotrol, Ormazabal, Ingeteam, Sadiel, GreenPower, Telvent, Neometrics y 13 Organismos Públicos de I+D.
Start Date:
Thursday, 1 January 2009

to

Monday, 31 December 2012
A model of sustainable energy management for the cities of the future.
This is a four year long project (2009-12) that tries to create an energy distribution model adjusted to electricity supply and demand requirements.
The key goal of this project is to establish the principal issues to create cities with a safe and sustainable electricity distribution grid; the development of an R+D project pilot prototype of a future electricity distribution grid is the first step to achieve this goal. In this prototype, customers and utilities must collaborate in increasing the use of renewable energy sources, matching energy generation with local electricity demand, and aiming for rational and efficient energy consumption.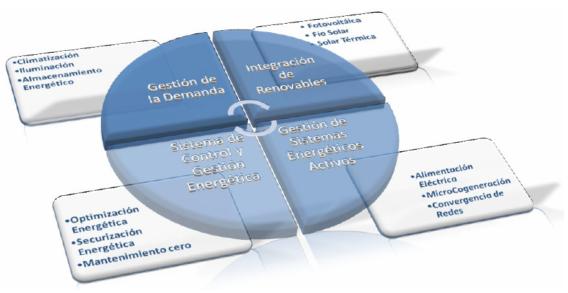 In order to attain the key goal, it is necessary to determine the viability of advanced services of energy management in homes. We will define different customers' profiles and implement energy management devices which, in conjunction with the web consumer portal, will allow customers to become an active agent of the electricity distribution grid and to be capable of managing their electricity demand/generation.