Ponencia en el II Congreso del Hogar Digital
Ponencia en el II Congreso del Hogar Digital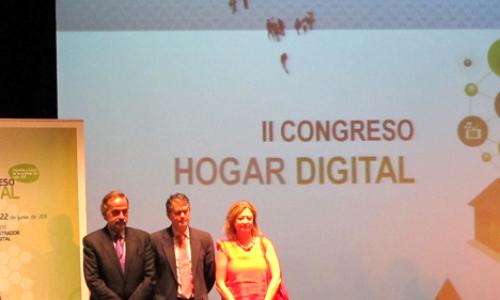 CeDInt participated on the second edition of the digital home congress celebrated on June 21st and 22nd in the Madrid Digital Home Demostrator.
El objetivo principal del congreso, organizado por AMETIC, era profundizar en el conocimiento de las nuevas tendencias y avances en relación al nuevo concepto de Hogar Digital. El congreso estaba dirigido tanto a operadores de comunicaciones, instaladores, centros tecnológicos y empresas y profesionales de ingeniería y domótica, entre otros.
Las jornadas se organizaron en mesas redondas, en las que se trataron temas de actualidad relacionados con el sector:
Regulación y reglamentos ICT.
Arquitectura y diseño del Hogar Digital.
Sostenibilidad y Eficiencia Energética.
Proyectos y experiencias: conferencias y visitas a expositores.
El papel del integrador en el Hogar Digital.
Servicios y Contenidos.
Formación.
Tecnologías Emergentes.
Dentro de este último punto, Tecnologías Emergentes, el CeDInt hizo una presentación sobre Redes de Sensores, en la que se hizo un resumen de las distintas tecnologías y aplicaciones de las mismas. Como ejemplo, se expusieron los proyectos desarrollados por el CeDInt en ese ámbito (3we, Ecommontech, Lab XXI…).