Lectura de Tesis Doctoral por parte de Guillermo del Campo
Lectura de Tesis Doctoral por parte de Guillermo del Campo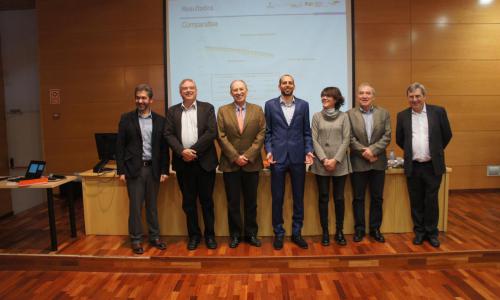 Last Friday March 17th of 2017, Guillermo del Campo Jiménez, CeDInt researcher of the Energy Efficiency and Internet of things group, finished his PHd with the dissertation of his Doctoral work in the Main Hall of CeDInt.
His Thesis, titled: "Contribution to the study of VLC systems in home automation environments", Has been directed by Professor Francisco José López Hernández, Obtaining the A mark,  by the evaluating tribunal.
The evaluation tribunal was composed by:
Miguel Ángel Muriel Fernández (President)
Asunción Satamaría Galdón (Secretary)
Rafael Pérez Jiménez (Vocal)
Antonio Puerta Notario (Vocal)
Aniceto Belmonte Molina (Vocal)
Congratulations Doctor Del Campo!
Article type:
Piece of news
Dissertation