Se amplia el plazo de presentación de proyectos a los enerTIC Awards hasta el 5 de Septiembre
Se amplia el plazo de presentación de proyectos a los enerTIC Awards hasta el 5 de Septiembre
Wednesday, 30 August 2017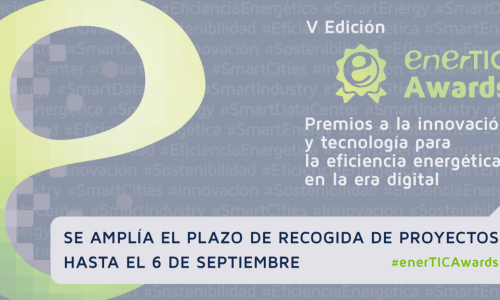 Innovative projects executed by energy efficiency and environment committed companies and organizations have a few more days to be submitted to the enerTIC Awards 2017.
Sensible to numerous feedback received by participating companies about the dificulty to prepare the documentation during the summer vacation period, the enerTIC platform has agreed to exceptionally extend the submission period to September 6.
Asociated Companies and The institutional support network of enerTIC also have extened period to nominate Managers outstanding for the promotion of good practices in their influence areas and are references in the adoption of technological solutions to the energy efficiency and sustainability.
Please check the official enerTIC Awards web page for complete information on categories, submission forms and all details at: www.enerTIC.org/Awards