Transnet
Transnet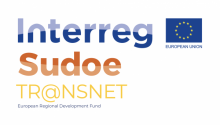 El proyecto TR@NSNET, con referencia SO4E / P1 / F0986, ha sido financiado por el programa Interreg Sudoe a través del Fondo Europeo de Desarrollo Regional (FEDER).
Start Date:
Thursday, 1 October 2020

to

Friday, 31 March 2023
The European Tr@nsnet project aims to contribute to the energy transition by defining a new model of a university living lab, i.e., a real test bed for open innovation, which is transferable to companies.
Funded by the Interreg-Sudoe programme with a budget of €1,4 million, this interdisciplinary and cross-border project will help researchers and stakeholders exchange knowledge and experiences on methodologies, experiments and technology demonstrators related to research on energy transition.
Tr@nsnet project is a continuation of Interreg-Sudoe 2016-2019 Tr@nsener project.
Partners
Budget and deadline
Total budget: € 1.524.535
Deadline: 1/10/2020 - 31/3/2023