Abierta la convocatoria de la IX edición de los Premios a la Innovación y Tecnología para la Eficiencia Energética en la era digital de enerTIC
Abierta la convocatoria de la IX edición de los Premios a la Innovación y Tecnología para la Eficiencia Energética en la era digital de enerTIC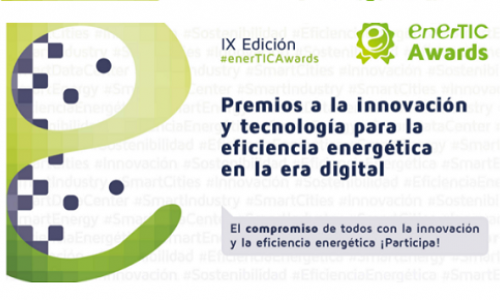 The enerTIC Awards are a consolidated and prestigious initiative that, with the commitment of all, allows to identify, reward and disseminate success stories and good practices, which serve as a reference to advance and raise awareness about the opportunities offered by the digitization of cities, industries, data centers, etc., for the improvement of energy efficiency and sustainability.
After the success of the enerTIC Awards 2020, and in a key year to achieve the recovery and sustainability objectives of the Recovery and Resilience Plans and the 2030 Agenda, the enerTIC.org Platform presents the ninth edition of the benchmark awards in energy efficiency and sustainability: 'Innovation and Technology Awards for Efficiency in the Digital Age'.
To submit project nominations, it is necessary to complete this brief identification form before July 2 and formalize the nominations before September 1.
On the other hand, the professional trajectory of executives from the main sectors in demand will be recognized: Administration (Central, Autonomous and Local), Women Leaders STEM, Energy & Utilities, Banking and Insurance, Industrial Companies, Large IT Infrastructures and Telco Operators, Universities - Research Centers.
The phases of the process are:
Identification of projects (applications) and managers (nominations): before July 2nd.
Formalization of applications and nominations: until September 1st.
Evaluation of nominations and selection of Finalists: September 15
Online publication of Finalists: 22 September
Online Voting of Award Winners: until October 11
Presentation of Finalists at Smart Energy Congress & EXPO 2021: October 27 and 28-Madrid
Official Awards Ceremony: December 2021-Madrid
All the information and rules of the call can be consulted at www.enerTIC.org/Awards.
More information:
enerTIC Awards 2021: Form and Rules of the call.
enerTIC Awards 2020: Information on the previous edition of the Awards.