Lectura de Tesis Doctoral por parte de Jie Song
Lectura de Tesis Doctoral por parte de Jie Song
Thursday, 14 September 2017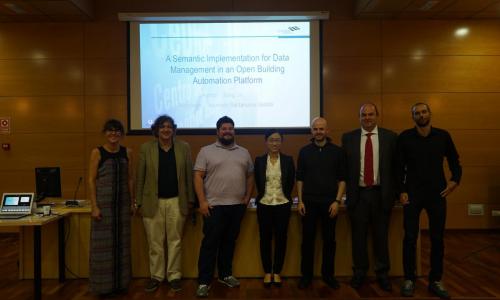 Last Thursday September 14th, Jie Song, CeDInt researcher of the Energy Efficiency and IoT group, finished her PHd with the dissertation of his Doctoral work in the Auditorium of CeDInt.
Her Thesis, titled: "A Semantic Implementation for Data Management in an Open Building Automation Platform", has been Advised by Professor Asunción Santamaría, Obtaining the maximum mark, A,  by the evaluating tribunal.
The evaluation tribunal was composed by:
Manuel de Hermenegildo Salinas (President)
Guillermo del Campo Jimenez  (Secretary)
Matthias Kovatsch (Vocal)
Jesús Contreras Cino (Vocal)
Carles Gomez Montenegro (Vocal)
Congratulations Doctor Song!
Article type:
Piece of news
Dissertation