CPSE Labs
CPSE Labs
Cyber-Physical Systems Engineering Labs Project is funded by the European Union under the H2020 Program in the topic ICT-01-2014: Smart Cyber-Physical Systems. Grant Agreement No. 644400.
Cyber-Physical Systems Engineering Labs
CPSE Labs is a European Union-funded initiative with a mission to support small and medium-sized businesses which engineer or operate dependable cyber-physical systems (CPS) in Europe. We can provide funding and technical support for experiments which are designed and proposed by businesses themselves. Experiments can focus on facilitating innovative and CS-enabled value chains in the European marketplace, demonstrate innovative CPS design technologies, or concentrate on design of innovative new CPSs.
Smart cyber-physical systems (CPS) are considered to be the next revolution in ICT with lots of game-changing business potential for integrated services and products.
Mastering the engineering of complex and trustworthy CPS is key to implementing CPS-based business models.
Current CPS, however, are often engineered and maintained at very high cost and sometimes with unknown risks, and recent technological progress from R&D projects is not readily available to most innovators.
The CPS Engineering Labs (CPSE Labs) therefore equips innovators - businesses, researchers, and students – with CPS engineering infrastructure, knowledge, and tools for realizing novel CPS-based products and services, with the explicit goal of expediting and accelerating the realization of smart CPS.
The CPSE Labs build upon existing R&D centres - in Madrid, Munich, Oldenburg, Newcastle, Stockholm, and Toulouse - and turn these already excellent regional clusters into world-class hotspots for CPS engineering.
The design centers develop and maintain a common strategic innovation agenda for building up novel and complete CPS value chains. Based on this strategy the CPSE Labs build up and maintain a portfolio of added-value experiments.
Experiments are focused and fast-track and they have a clear innovation objective; they build upon results and achievements from large-scale national and European projects on the rigorous design of embedded systems and CPS.
Experience gained from experiments, validation results, and best practices, cross-cutting engineering principles that underpin the integration of cyber and physical elements of CPS are continuously integrated and disseminated by the CPSE Labs.
The CPSE Labs' marketplace provides an open forum for sharing platforms, architectures, and software tools for the engineering of dependable and trustworthy CPS. The ultimate goal is to establish a CPS engineering framework which sets a world-wide standard.
CPSE Labs Mission
Foster an open, pan-European network of design centres committed to transitioning science and technology for engineering trustworthy and dependable CPS into the marketplace
Identify, define, and execute focused and fast-track experiments with a specific innovation focus
Spread best CPS engineering practices and promote cross-regional and cross-sectorial learning among industry and academia
Establish a marketplace for CPS engineering assets
CPS Engineering Labs Design Centres
CPSE Labs makes technical support and funding available to European technology businesses.
CPSE Labs provide funding for research experiments designed and proposed by businesses themselves. During experiments they can also provide support and expertise from some of Europe's top-ranked technology design centres, with expertise in a range of technologies, and industries. Design centres are located six locations around Europe.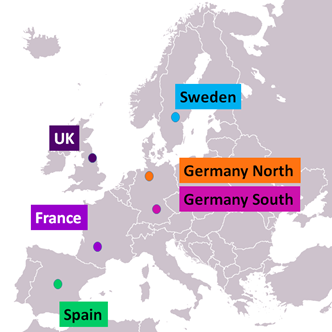 Design centres have reputations for excellence in complementary design capabilities, including:
smart objects for intelligent applications
CPS service engineering
flexible production systems
collaborative development of hardware and software
safety and security analysis
autonomous and cooperative systems
CPS engineering tools
smart user experience
amongst many others.
The design centres will equip technology businesses in Europe with engineering infrastructure, knowledge, and tools to bring open, co-operative and smart CPS to the market place.
More information on the oficial web site: http://www.cpse-labs.eu/
CPSE Labs Spain
CPSE Labs in Spain aims to develop and provide an open CPS platform for building and deploying smart city services for the digital citizen. The centre will be hosted by the Technical University of Madrid (UPM)from its campus in Madrid. It will be managed and run in close collaboration with Indra Sistemas, S.A.The developments at the Spanish design centre build on the SOFIA2 (Smart Objects for Intelligent Applications) architecture, communication protocol, and a set of open tools as developed in this Artemis project. CPSE Labs Spain provides an excellent innovation environment with dedicated investigation work groups and will solicit experiments in the area of Smart Cities. 
Spanish Design Center: http://www.cpse-labs.eu/spain.php
Funded Projects: http://www.cpse-labs.eu/experiments.php