Wairbut y el CeDInt dan un paso más en la integración de sistemas domóticos heterogéneos
Wairbut y el CeDInt dan un paso más en la integración de sistemas domóticos heterogéneos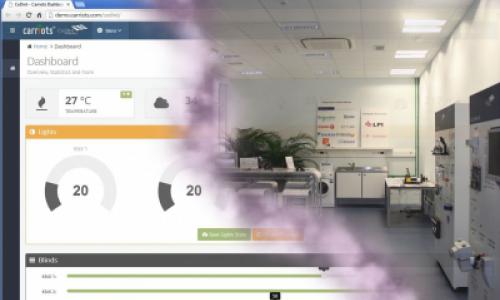 Wairbut and CeDInt have worked together in an effort to integrate their building and home automation platforms in the cloud.
Thanks to this work devices of KNX and BATNET technology installed in the energy efficiency lab of CeDInt can be universally controlled by the Carriots platform. As a result in this demonstrator users can check luminosity, humidity, temperature or power consumption measures as well as act upon blinds or lights of the lab anywhere.  There is also a graphical interface allowing intuitive follow up of measurement history.
Both solutions are a perfect complement of one another to build a complete control and monitoring solution. Wairbut provides the user interface and their vast experience in cloud computing as well as the power of the Carriots platform for after process of all ambient and sensor data, as well as the use of actuators to enhance ambient intelligence. CeDInt provides his long experience in sensors and automation for home or buildings as well as his multiprotocol gateway BAT-MP that is ready to implement and integrate any control protocol or technology present or future.
The experience and standards usage has allowed Wairbut and CeDInt to successfully integrate their systems in a few days opening a very interesting collaboration path for both companies.
Wairbut offers all kind of control services for the Smart building and the Smart City through the cloud Carriots platform (www.carriots.com). This platform is fully customizable, allowing aggregation of sensor data, data and device management, turnkey apps or outsourced management services.
On the other hand, CeDInt is a research center of the Technical University of Madrid with nine years of experience in research projects integrating control platforms for home and building automation both proprietary and industry standard. CeDInt has also developed his own and standard and open source based wireless measurement and control platform called BATNET.