APPARCCO
APPARCCO
El proyecto APPARCCO RTC-2017-6555-4, ESTÁ financiado por el Ministerio de Economía y Competitividad bajo el programa RETOS-Colaboración 2017. Su consorcio está formado por API MOVILIDAD, S.A., IMESAPI S.A., INVENTARIOS Y PROYECTOS DE SEÑALIZACION VIAL SL y la UNIVERSIDAD POLITECNICA DE MADRID.
Start Date:
Tuesday, 1 May 2018

to

Saturday, 31 October 2020
Policies Parking with Adaptative Rates to Reduce congestion and pollution and optimize service
APPARCCO reduce emissions and congestion of cities through a political price dynamics surface parking, which are users informed before the start of its journey through an app, a platform for sustainable parking, which generates accurate information occupation by a radio frequency system incorporates data from air quality and traffic, predicts the future occupation and quantifies the benefits gained through business intelligence tools.
BACKGROUND
Intelligent Parking sustained growth recorded in recent years, reaching a turnover of almost 400 million in 2016. However, it has not yet experienced the expected explosion in this type of innovative technologies that have emerged from the hand smart cities.
The first reason for this lies in the technology of monitoring. Although there have been many approaches used to date (different types of sensors, cameras, radars ...), none has managed to avoid the high costs of installation, maintenance and operation. In addition, intelligent management platforms have been restricted parking your particular application, without creating connecting links with other urban areas and thus losing weight and vertical solution to be incorporated into a comprehensive system intelligent city.
These other areas to solve within a city, pollution and traffic congestion are becoming increasingly important. With growth of urban population has exceeded 50% it is clear that innovative policies are needed to attack the problem of sustainability from a global perspective. This is the aim of strategies such as congestion charges or environmental already implemented in some cities like London, Stockholm and Singapore, seeking that these externalities are internalized by users of the city that produce them.
SOLUTION
APPARCCO born with the aim of providing a common response to these problems, using the intelligent parking as a means of achieving environmental, social and economic benefits. To do this, design a policy of dynamic pricing calculated on sustainability criteria, which is implemented through the platform for sustainable parking, PlatAS, which also includes a monitoring system seater that offers almost zero cost and high accuracy.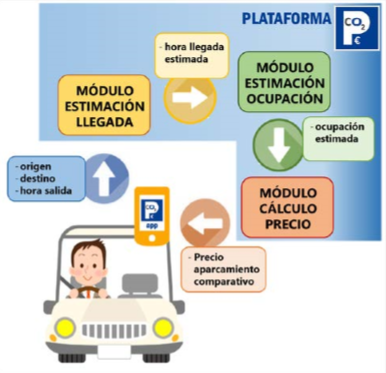 The PlatAS platform is also connected to a mobile application (app) for the user, providing you with prices that will apply in different areas compatible with your destination so that you can make an informed decision about your parking. The calculation of these rates will be based on the prediction of expected upon arrival occupation and environmental and traffic conditions. Also, this app allows modeling of the impact of price on the user's decision, taking data in real operation. Finally, the PlatAS platform incorporates business intelligence tools that generate metrics on the benefits achieved by the implementation of policies created to offer public administrations and citizens.
To achieve the innovative results of the project APPARCCO has built a consortium of IMESAPI, multinational leader in road infrastructure management; API Movilidad, big company, leader in parking management; IPS Vial, engineering, software development and GIS for traffic and two research centers at the Polytechnic University of Madrid, the Center for Transportation Research (TRANSyT) and the Group of Biometry, Biosignals, Security and Smart Mobility (GB2S) belonging to ETSI Roads, Channels and Ports and ETSI respectively Telecommunications and specialists in modeling mobility and transport economics and technology of intelligent transport systems and access platforms and information processing.