Second edition of UPM innovatech challenge with 13.000€ in prizes
Second edition of UPM innovatech challenge with 13.000€ in prizes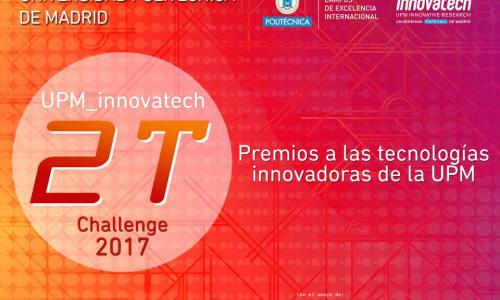 UPM_innovatech, the Innovation and technology bring to market UPM program (CAIT-UPM), launches a new edition of UPM_innovatech 2T Challenge ' 2017, after the success of the first edition in recognizing and awarding the most innovative R&D technologies and results.
Additional value added services such as specific commercialization training for technologies, support on disemination and contact network; are offered to participant researchers on top of the 13.000 Euros in prizes.
If you are a UPM researcher you can enter the challege by filling up a simple web form that will allow you to:
Obtain recognition as an UPM technology with most innovation potential and accces to awards of 13.000 Euros (first prize 10.000 Euros to invest on the development of the technology).
Access a technology commercialization course in which professional trainers and experts in communication, sales, potential evaluation or monetization of technologies will teach you to use tools and strategies to develop a better commercial approach for your ideas. UPM will fully fund the course for a limited number of UPM researchers.
Analyze tha business oportunity of your R&D results and defining the next steps in the go to market plan.
Multiply the diffusion and impact of the participant technologies through the marketing channels managed by the program and participation in the Technology Innovation Workshop event to be organized by CAIT-UPM for the better valued technologies.
More information and registration in: www.upm.es/innovatech
Call open to participants until July 17th 2017 (inclusive).
Please address any further question to innovacion.tecnologica@upm.es