evMIC
evMIC

Project funded in 2009 through the program AVANZA by the Spanish Ministry of Industry, Tourism and Commerce.
Start Date:
Thursday, 1 January 2009

to

Saturday, 31 December 2011
Collaborative, Immersive, Multimodal Virtual Environments
Creation of an interoperable platform aimed to support the creation of virtual environments for professional applications, focused on users, improving limitations of current platforms and based on what "The Future Internet" will be.
Collaborative Virtual Environments (CVE) support a close collaboration and interaction among people thanks to aspects like immersion, sensation of presence, and immediate response of the system. Considering these, evMIC consortium works to create an interoperable generic platform focused on users, aiming to improve the limitations of current tools through a new paradigm of accessible interaction, information management, simulation and services offered by the virtual world. The validation process of this platform will take place within the framework of several scenarios in the professional sector.
Several modules integrating the core platform architecture and aimed to support the creation of virtual environments for training have been developed. For validation purposes, specific tools are also being developed in order to deploy the four pilots focused on final user and professional applications designed to evaluate the feasibility of evMIC platform:
Personnel selection.
Professional coaching (eCoach).
Tools for teleworking.
Surgical trainer.
As a member of evMIC consortium, CeDInt participates in several tasks concerning the design and development of the interoperable architecture of the platform and the development of Augmented Reality elements and environments. Besides, it is the main responsible for the development of the Module for Osseous Structures Reconstruction (OSR), aimed to support the Surgical trainer.
Module for Osseous Structures Reconstruction:
The OSR Module will be able to provide a complete 3D reconstruction of an osseous structure using as input a DICOM file containing the corresponding medical images. The output file containing the three-dimensional geometry of the osseous structure will be obtained through a fully automatic processing.
To perform this task, an intensity-based segmentation algorithm has been developed. It performs an automatic pixel classification, not requiring any training or supervision,l which represents an important advantage against other methods requiring a seed to launch the segmentation process. Once the segmentation has been performed on each image of the DICOM file, a 3D reconstruction algorithm is applied (Marching Cubes algorithm), in order to obtain 3D images corresponding to the osseous structures.
Results:
In the following images, several examples of application of this segmentation algorithm are showed.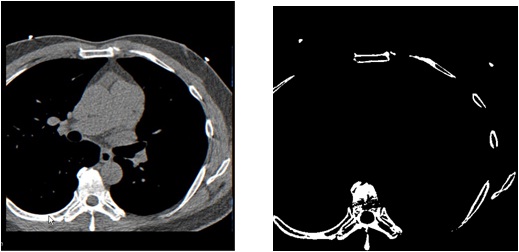 Torso CT image (left), and resulting segmentation (right)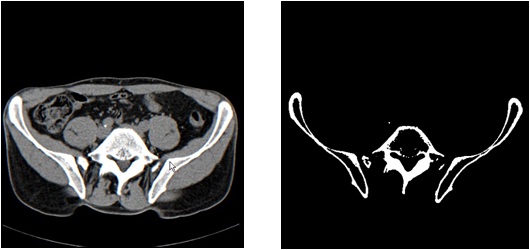 Pelvis CT image (left), and resulting segmentation (right)
Feet CT image (left), and resulting segmentation (right)
The following images depict two examples of osseous structures three-dimmensionally once the developed algorithm has been applied.